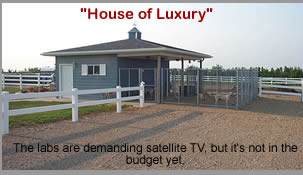 We are located in the heart of Pheasant country, Mitchell, South Dakota. Yes, the world famous "Corn Palace". We specialize in AKC yellow labs with excellent hunting bloodlines.
Doug has about 20 years of Dog breeding/raising experience. We have 2 females, 1 male on site. Sadie is our medium colored, stockier female. Cooper is our Very light colored, tall, slender female.
The normal litters are 8-11 puppies and very light in color. Not only are they good-looking, they have no problem hunting in the very hot weather (like we had in the 2003 hunting opener), unlike the darker dogs.
Whether you are looking for a companion, a family dog, or an excellent hunting dog, we can fit you with the perfect puppy. Our yellow labs are very calm in nature and well mannered. Many of our puppies have gone for family pets as well as hunting dogs. They are very easy to train.
Sam, our male dog is so gentle. He does not even acknowledge our cat that threatens him through the patio door. When brought into the house, Sam doesn't care that his being in the house aggravates the cat. Sam ignores the cat.
No house should be without one of these dogs; they are the best companions a child could have.
All 3 of our Dogs go out Pheasant hunting with us. They are all very aggressive hunters. When I hunt by myself, I use all 3 dogs. This is very productive; the dogs cover a lot of ground.
One time, I shot a bird clear out in a cornfield. The dogs searched long and hard, the bird was no where to be found, but the dogs could not come back empty handed, they brought back a frozen one that was shot previously and never found.
These dogs are excellent waterfowl dogs. They have no problem retrieving Canadian geese (12-14 lb.), snow geese all day long, Pheasants from anywhere.

The puppies are wormed, have the 7 way shot, and the dewclaws have been removed.
11-30-23
ALL COLORS AVAILABE / BLK-YELLOW $1000 MALES $1200 FEMALES / WHITE DK RED DK CHOCOLATE $1200 MALES $1500 FEMALES / CALL-TEXT ANYTIME 605-999-7149 FULL REGISTRATION
---
11-30-23
White/ Yellow/ Blacks/ Dark Dark Reds Lite Reds and Dark Chocolates - Excellent Bloodlines for hunting, or excellent family companions. Not all labs are - the same. PROUD TO OWN!
---
11-29-23
$200 NON/REFUNDABLE DEPOSIT IS REQURIED / PICKING ORDER IS WHEN I RECIEVE THE DEPOSIT / DEPOSIT WILL BE REFUNDED IF FOR SOME REASON I DON T HAVE ENOUGHT PUPPY FOR THE TAKEN DEPOSITS / OR TRANFER DEPOSIT TO THE NEXT LITTER / NO LAST MINUTES CANCELLATIONS /
---